Have you lost weight only to gain it right back plus more?

If you have tried every weight loss program, dieted and lost weight only to gain it right back plus more – you know how hard weight loss can be.
Through working with thousands of clients over the last 11 years, leading healthy lifestyle classes, plus advanced training, research and study, I've developed a weight loss program like no other.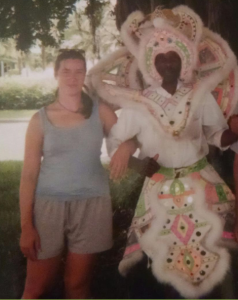 Weight wasn't a big problem during my 20's as I was very active and had a job as a backpacker and then white water raft guide.
But then I went back to school for psychology and instead of hiking, I was sitting in classrooms and reading books all day.
This is me after six months in college on a Bahamas trip. The sedentary life, eating cookies and convenience foods caught up with me and I gained 40 pounds. I went from a healthy fit 10 to size 14 in just a few months. 14 wasn't bad, but I just didn't feel good in my body.
I had even certified as an herbalist, a program that promoted 'food as medicine.' So I knew the foods to eat and the foods to avoid, but I still found myself craving the wrong foods.  I couldn't walk by a donut shop without stopping for not one donut, but two. And I could polish off most the bag of cookies in a single sitting.
It was the cravings that I couldn't control.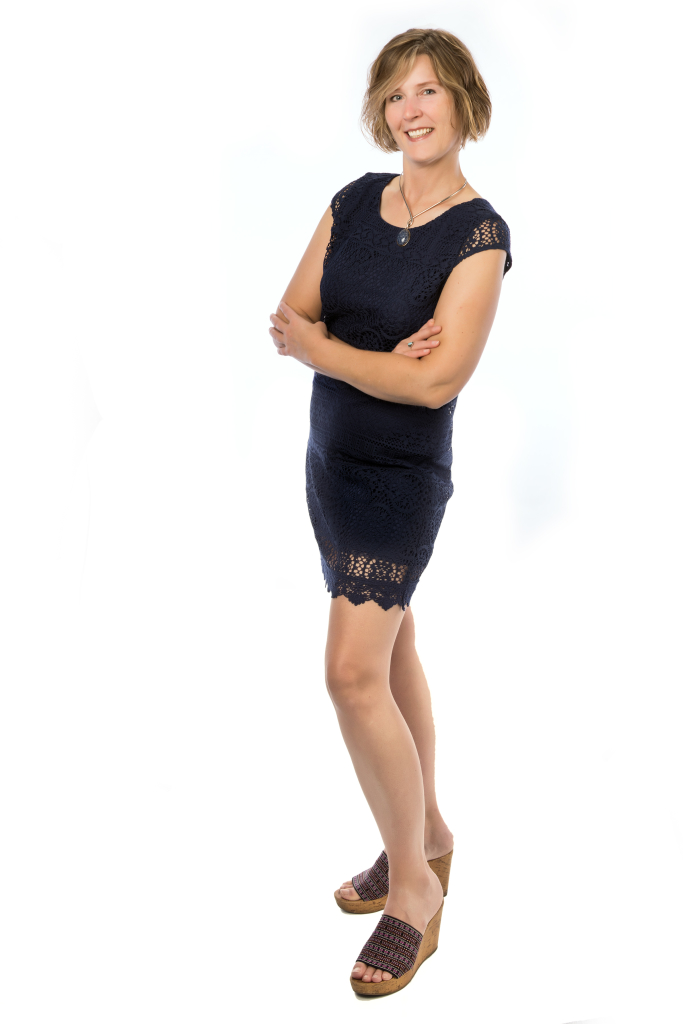 Looking for answers, I certified in Hypnosis – how to work with the mind's filtering process to change habits and cravings quickly. And then I certified in Neuro Linguistic Programming, NLP the brain's coding system.
I applied the principles to myself and lost the 40 pounds. I went from a size 14 back down to a size 10…and then to an 8…and then to a size 6!
Weight loss is not one size fits all.
Weight loss can range simple to complicated. At the simple level, you may just need to change some habits. At the more complicated level we run into mental programs and self sabotage.
We each have a unique set of underlying habits, patterns, and mental blocks running in the mind – and its these patterns that are wired into the brain and make weight loss hard. It even feels like you are battling with yourself – unless you learn the right BRAIN Skills to make the change at the brain level.
I developed a system and a process to find and maintain your ideal healthy weight.
Let me share with you the BRAIN skills I used to drop 40 pounds and 6 dress sizes and I've kept it off for 10 years with no dieting, no counting calories and no starving myself – no kidding!
Weight loss doesn't have to be so hard. Think of it like putting together a puzzle, you need to get the right pieces in place – and the most important piece is your BRAIN.
Over the last 10 years, I've taken the best BRAIN skills for weight loss and created A Lighter You! System, a complete approach to help you find your lasting weight loss success. It includes my two books, my 6 Hypnosis CD set and online access.
A Lighter You! Train Your Brain to Slim Your Body (book)
A Lighter You! Health Coach's Guide to Nutrition in Action (workbook)
A Lighter You! Mind Body Weight Loss 6 Hypnosis CD set
These tools are designed to 'train your brain' for your fit, healthy body. Real success starts with your head, that's your motivation, focus and commitment.
Your brain is also responsible for all the reasons weight loss is hard: habits, mental blocks, cravings, lack of motivation and self sabotage. If you are tired of the old diets and programs…you are ready for A Lighter You!
You don't need another diet – you need a Brain intervention!
Follow these 5 steps to find your LASTING weight loss success.

Why Diets Haven't Worked So Far. Go to Step 1

Learn What You Need to Know Before You Start.
Go to Step 2

Get the Brain Skills.
Go to Step 3

Stay Motivated & Focused.
Go to Step 4

Discover Success
Go to Step 5
Follow the Steps Above to Learn More Or Get Started with a Weight Loss Analysis Session
In this 50 minute session, we can meet in person in Salt Lake City or by phone, web-conferencing or Skype internationally.
We'll  identify your specific mental blocks with weight. And we'll outline the brain habits and patterns we need to change so you can release the extra weight and find your AFTER! Here's what you'll discover:
Your Unique Weight Blueprint
Identify Core Issues Behind Self Sabotage
Identify Any Mental Blocks you have with Weight (overweight or underweight)
Get a Roadmap to Your Lighter You
Experience the Magic of Brain Training Skills NLP, Hypnosis and Coaching
 Whether you work with me or somebody else, you'll have your roadmap and know exactly what you are dealing with. We'll demystify the weight loss equation for you.
Read more and see current rates by clicking here.
Here's an Overview of A Lighter You! System Weight Loss Program
Maybe you've tried this before, "I'm not going to eat sugar anymore" and then it starts jumping out at you from nowhere, you notice the kid eating chocolate, or the ice cream cone walking down the sidewalk. Or maybe you felt good about yourself as you passed up the doughnut and then the cookies, but then evening rolls around and you can hear the ice cream calling to you from the freezer!
This is because the cravings and self sabotage don't work with logic.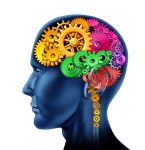 The part of our mind that's in charge of our cravings and self sabotage is not our logical conscious mind – its our unconscious mind. That's why cravings are so hard to say no to, and why we find ourselves eating the wrong things, even though we know better.  This is why we experience self sabotage, and it doesn't respond to conscious logical thought.
Just knowing that these mental programs are there is not sufficient to change them. If you really want to end the yoyo dieting, if you are ready to stop struggling with food – you absolutely must change what your unconscious mind is focusing on.
In working with thousands of clients over the past 11 years, I've brought together the best tools to help you do just that – update the unconscious so that you can slim down naturally and enjoy lasting weight loss success! Here's what my program can help you do:
Discover the Real Reasons for your Weight Problems
Find your Motivation for Fitness and Exercise (and even start to enjoy it!)
Slim Down Naturally Without Feeling Hungry, Deprived or Weak
Lose Weight Without Counting Calories!
Sound Principles for Eating Well and Nutritional Balance
Discover your Vitality and Energy Again!
Enjoy Healthy Eating
Get the Mindset for Following through on What you Know you Should Do
Gain Confidence with the Body you Want
This program is so effective because it gives you the right tools and the right information to address the underlying CAUSES of weight gain.
If you've tried other programs with mixed results – finally, you'll find
the answers you need to make small changes, that fit you and your
lifestyle, and you can slim down naturally without the struggle!
The 'Just do it' response is not an answer.  It's fine for those who already have the healthy weight mindset, but if you are struggling, if you experience cravings and even self – sabotage – you need better answers and better strategies!
You'll get the missing pieces – that allow you to finally step into your Healthy Weight Mindset – and slim down without counting calories, without struggling and feeling deprived or weak, and experience lasting weight loss success!
Here's a few of the tools I have created to help you effectively shift the old patterns and finally slim down to your ideal and healthy weight!
The Book: A Lighter You! Train your Brain to Lose Weight gives you the tools and mental strategies you need to quickly change old habits and patterns, transform cravings, end emotional eating and even self-sabotage! Filled with content and step by step guide to what to do when experiencing cravings, difficult emotions, and more, you'll find it makes a great reference to use over and over again.  Get the book here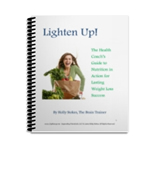 The Book: A Lighter You! Health Coach's Guide to Nutrition in Action gives the essentials for understanding foods, your body and what you need to know to stop dieting and make lasting weight loss change. Many programs say they offer weight loss, but they lack the nutritional basis for a long term solution. You'll discover key principles in an easy to follow format that allows you to create the comfortable, tasty and enjoyable lifestyle that allows you to slim down naturally! Get the book here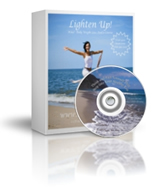 A Lighter You! Mind Body Weight Loss 6 CD or MP3 Set.  Six Guided Visualizations designed to help you train your brain for lasting weight sucess (mp3 format).  These hypnosis style audios are key to helping your brain make the updates for cravings, lack of motivation, releasing the reasons for gaining weight, and so much more.  Available in CD or MP3 formats. See the details below.
These six mp3s cover the essentials you need to reach your ideal healthy weight and to maintain it with lasting weight loss success. The titles include:
Step Into your Healthy You
Curb Your Cravings
Enlighten Your Body Image
Motivation for Fitness
Boost Your Metabolism
Release Your Reasons
 These hypnosis CDs are powerful and effective tools to help you shift your mindset, and achieve your healthy weight. And its like having a private hypnosis session at your fingertips, anytime.
This comprehensive Weight Loss program Includes:
A Lighter You Train Your Brain to Slim Your Body ebook
A Lighter You Health Coach's Guide to Nutrition in Action ebook
A Lighter You Mind Body Weight Loss 6 MP3 set
90 Day Daily Motivational Emails ( one a day for the first 30 days, then one email every other day)
Weekly lessons for studying at your own pace
12 Pre-Recorded Teleclasses covering material in both ebooks (listen on your commute)
Plus, Bonus Recordings:
Bonus MP3: Automatic Weight Loss
Bonus MP3: Surviving the Holidays
One on One Personalized Sessions can help you get to the Core issues that drive self sabotage, cravings, food compulsions and addictions! Once we identify and change these driving issues – it changes the game of weight loss. You'll find the struggle subsiding, you'll experience greater well being, and you'll find yourself naturally more motivated to do more, move more and enjoy life more!
The changes are so remarkable, that they almost seem natural and easy!
"I found myself passing up Stromboli for a salad – that's never happened before. I didn't even have to make myself do it, it just sounded better! " –Laura W.  Portland, OR
With the Right Tools and Right Support – you can experience the brain training difference and enjoy lasting weight loss relief! Here's the details of everything you'll receive in the program:
If you are tired of counting calories, yoyo dieting, and feeling hungry, deprived, or weak – this is for you! In this course, you'll discover that healthy living can be fun, transforming old habits, eating healthier, finding more energy – and living your best!
"I used to not be able to say no to cheesepuffs, and now there is a half a bag sitting in my cupboard for three weeks, they just don't taste the same to me, I don't even want them!" –April, Vancouver, WA.
Don't let the days keep stacking up around your middle….
With the right tools and the right support – you'll be on your healthy weigh in no time!
You're tired of the yoyo dieting! You're ready to finally address the reasons WHY you've gained weight. You're ready to find your Healthy Weight Mindset and slim down with less struggle – without feeling hungry, deprived, or weak!
With these powerful tools, mental strategies, sound principles and the special "brain training" audios, you can slim down to your lighter, freer self, find your health and energy again – and enjoy life more!
Imagine what it would be like to not have to worry about your weight?
What would it be like to just stop eating when you are full? What would it be like to eat what you want, not feel hungry, deprived or weak? Wouldn't it be nice to stop counting calories, eat what you like, and even find yourself naturally reaching for healthier foods because it sounds good?
Well, now you can.

Get Started with A Weight Loss Analysis
Call Holly Now: 801-810-9406